Do you have a crowed smile or a crooked tooth? Is your jaw not properly aligned? Such issues not just affect your smile, they also cause oral disease. During such oral problems Orthodontic services are provided to correct teeth and jaw alignment problems. The procedures involve treatments ranging from Invisalign, traditional braces to removable appliances.
When we hear the word "Orthodontics", we tend to automatically equate it with braces. At a certain degree, this is correct since orthodontics is the process of correcting oral problems such as malocclusion (incorrect bite) with the help of orthodontic appliances such as braces. A few decades ago, this procedure was common only for teens and preteens. However, due to an increased understanding of the benefits associated with
properly aligned teeth, orthodontic treatment is commonly performed on adults as well.
The benefits
Malocclusion often interferes with speaking and eating capabilities and thus it has to be corrected. Among the several benefits of orthodontics include the following.
The procedure maximizes the effectiveness of your teeth in performing their functions.
Enhances your smile.
Boosts your self-confidence! knowing that there is not a problem with the way your teeth are aligned will significantly add your confidence level.
New orthodontic procedures are done to re-position your teeth as well as their underlying roots.
Provides an improved support for other treatments done such as restorative dentistry.
Improves your facial appearance as it creates a natural support for your lips and face versus using unnatural fillers etc. Proper facial profile and proper jaw placement is also achieved through orthodontics.
Enhances your oral hygiene. Straight teeth are clean teeth. Through natural functions, such as eating and speaking your teeth are cleansed as your tongue and lips brush against them.
A well aligned tooth is easier to clean and maintain.
The Process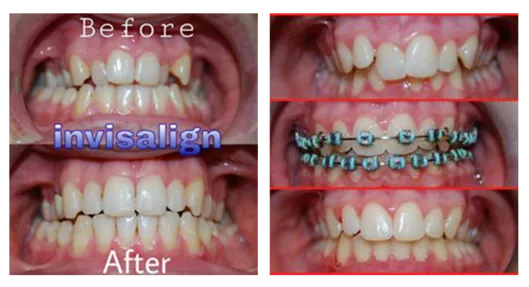 The First visit typically involves an evaluation of your bite. There are several procedures which may be done in order to create a treatment plan. It may include facial, oral and functional examination, facial and intra oral photos, x-rays (both cephalometric and panoramic), and taking impressions for models of bite and teeth. The dentist will then review your records and performs a complete assessment.

During the second visit, your dentist will descuss with you the estimated period of time to complete the treatment. The standard is two years. Then depending on the condition, you may need to continue wearing retainers moving forward.
The total duration of the entire treatment depends on several factors, such a age as well as the severity of correction needed.
Invisalign
The Invisalign treatment consist of a series of clear, Snap-On custom fit, removable mouth trays that apply a controlled amount of force to your teeth, forcing them to shift. The system provides the same beautiful results as traditional braces, but since the trays are made of clear plastic, they are virtually invisible. In addition, because Invisalign trays are removable, they can be taken out while eating, drinking, brushing and flossing.
The Invisalign system works begins by first creating a series of trays that will each be moving your teeth gradually until the end of each two-week period, you will switch trays. Throughout the process, you will visit your dentist every 4-8 weeks to ensure treatment is progressing as planned. Once your treatment is complete, you will likely wear a clear retainer to ensure your new smile stays in place. Dr. Rima Peters is 2014 INVISALIGN premier provider.
Dr. Rima Peters is trained to perform general procedures in Orthodontics. Our clinic can be considered as a one stop shop for all your dental needs. Visit us now!
Traditional Braces
Dr. Rima Peters is certified and trained to do conventional orthodontics treatment on adults and children using Tip Edge brackets and wires (Differential Straight Arch technique) which uses light forces to move teeth, when properly implemented, moves teeth faster, farther, with significantly less discomfort than any other technique available, some of the benefit of this technique are;
Less time required than straight wire braces.
Fewer appointments required (6 weeks apart).
Less costly than traditional braces.
Less discomfort than traditional braces.
Lighter forces used (2oz. of force used vs 8 oz.)
Teeth move Faster because the brackets allows the crowns and the roots of the teeth to move independently of one another .
Headgear not required.
Routinely can treat surgical cases non surgically.
More effective at correcting deep bites and open bites.
Decreases the possibility of grinding, TMJ issues
Myobrace early interceptive appliances

Straighten your child's teeth and jaws without braces

It's often quoted that as many as 3 out of 4 children are living with crowded teeth and incorrectly developing jaws. So if you're concerned that your child's developing teeth or jaws are showing signs of alignment problems, it's worth looking at early treatment with the Myobrace system.

While orthodontic treatment with braces is still the best way to straighten teeth, it doesn't address the underlying causes. The Myobrace system is different.

Myobrace works to neutralise the underlying causes of orthodontic problems, helping your kids' growing jaw and teeth develop correctly – all without the need for braces.

Crooked teeth are just symptoms that your child's jaws aren't developing to their genetic potential. Apart from the obvious effect on their facial beauty and potential teasing in the playground, the hidden problems are much more serious.

Crooked teeth are very often associated with poor quality sleep (snoring, restlessness and sleep-disordered breathing), which has been demonstrated to have a strong association with cognitive impairment (making it harder in school), behavioural and emotional problems (hyperactivity, anxiety and aggressiveness) and long-term health problems (sleep apnoea and cardiovascular diseases).
What's the real cause of your child's crooked teeth?

Though you might think that crowded teeth and other orthodontic problems are simply caused by "genetics", the truth is more complex.

Studies now show that "incorrect myofunctional habits" – which include thumb sucking, mouth breathing, reverse swallowing or tongue thrusting – are often the true culprits behind incorrect jaw development and misaligned teeth.

Simply treating the symptoms of crooked teeth with braces (and possible tooth extractions) won't address these underlying causes of your children's crooked teeth. That means that once their braces are removed, their teeth can become misaligned again. It is now standard treatment to bond wire to the straightened teeth or make plastic retainers to minimise the risk of this otherwise inevitable progression.

Myobrace takes a different approach, treating the underlying causes of your child's crooked teeth to correct their bite, help your child's jaw develop correctly, and improve the poor habits that cause it. So, while straighter teeth are a wonderful side-effect of Myobrace therapy, the effects are far more substantial: proper facial development, improved quality sleep, and a reduced risk of airway, cognitive and behavioural problems.
ow early treatment can avoid the need for braces

Myobrace uses a series of removable dental appliances and muscle-training exercises to straighten your child's teeth and jaws without braces. It does this in two ways: firstly by 'teaching' your child's tongue to sit in the correct position, improving their swallowing patterns and encouraging them to breathe through their nose normally.

Secondly, the Myobrace system also applies light forces to your kid's crooked teeth, helping to straighten them, create a wider jaw, and improve their facial development.

Wearing the Myobrace for just 1 to 2 hours each day and overnight while they sleep, will help straighten your child's teeth, improve their facial development, and give them a healthier smile. This is combined with simple breathing and muscle-training exercises of just a few minutes, twice a day.

Thanks to the Myobrace appliance, your child's need for braces will be greatly reduced, and teeth extractions generally won't be needed.
Frequently Asked Questions
What's the best age to begin Myobrace treatment?

The best time to begin your kids' Myobrace treatment is while they're still growing, at about the time their first adult teeth appear at six to ten years old. We can also start treatment earlier if we discover bad myofunctional habits at an younger age.

While we also treat older children (aged over 15), the habits and problems causing their crooked teeth will often be a little more difficult to correct at this later stage. We will sometimes have to combine conventional braces with Myobrace therapy.
What causes crooked teeth in children?

Some of your child's habits (called "incorrect myofunctional habits") such as mouth breathing, thumb sucking, tongue thrusting and reverse swallowing, can cause problems with tooth alignment and jaw development. Altering these habits and treating these problems early with Myobrace can help avoid the need for braces or tooth extractions in the future.

How does Myobrace treatment work?

Myobrace appliances work in two ways: by correcting the habits that cause poor dental development, while also applying light force to the teeth to align them into their correct position. There are usually no braces needed, and your child wears the Myobrace appliance for just an hour or two each day.

How much does Myobrace treatment cost?

The cost of your child's Myobrace treatment will depend on a few factors, including the number of appointments needed; how well they wear their Myobrace appliance; and how quickly they respond to treatment. Also, Myobrace treatment will generally cost less when started earlier. Talk to our team for more information about Myobrace treatment prices.

Is Myobrace treatment painful?

No, Myobrace treatment shouldn't hurt. Your child may feel a small amount of sensitivity for a few days, but this usually passes quickly.
At Warner Village we offer the payment plans that fit into any budget. You may choose the plan that is appropriate according to your budget. If you're prepared for an orthodontic treatment, you may schedule a free consultation by requesting an appointment.