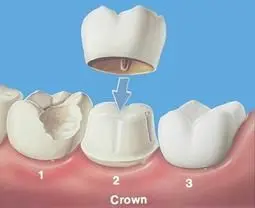 A crown is a full outer coverage to the tooth having shape same as that of a natural tooth. It is usually made from gold, porcelain (ceramic) and often by combining both designed to fit comfortably over the natural tooth. Crowns are typically originated to protect and strengthen damaged teeth. For example, teeth that have previously undergone Root Canal Treatment, or have large fillings to cover multiple surfaces of the tooth may need dental crowns. This treatment usually requires two visits. The initial one can prolong for one and a half hours in order to prepare the tooth, while the second is generally less than 30 minutes appointment, in which the crown will be in Dental Bridges: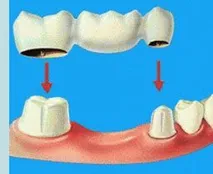 In case someone has completely lost a tooth or a number of teeth then dental crown only may not be enough. The dental bridges are devices that are attached to the healthy teeth around your missing ones. Prior to fixing of the bridge, the healthy teeth on both sides of the missing ones are first prepared with crowns that will be responsible for holding the replacement teeth in place. The dentist makes sure that the replacement teeth are functioning properly and have superior appearance. In order to do so, the healthy tooth is reduced for the crown to perfectly fit over it.
After that, an impression of your entire mouth is made and sent to the lab so a suitable crown can be created specifically for you. Meanwhile, you could be provided with a temporary crown to fit over your tooth until the permanent crown is ready. Once it is made, the temporary crown will be removed and the permanent one is cemented in pl You no longer need to hide your smile because of gaps, chips, stains, or misshapen teeth. With veneers, you can easily correct your teeth's imperfections to help you have a more confident, beautiful smile. Veneers are natural in appearance and are a perfect option for patients wanting to make minor adjustments to the look and feel of their smile.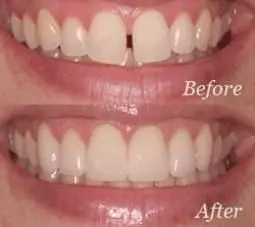 Veneers are thin, custom-made shells made from tooth-colored materials (such as porcelain) designed to cover the front side of your teeth. To prepare for veneers, your doctor will create a unique model of your teeth. This model is sent to a dental technician who creates your veneers. Before placing your new veneer, your doctor may need to conservatively prepare your tooth to achieve the desired aesthetic result.
When placed, you'll be pleased to see that veneers look like your natural teeth. While veneers are stain resistant, your doctor may recommend that you avoid coffee, tea, red wine, and tobacco to maintain the beauty of your new smile.